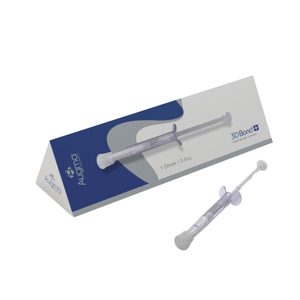 3D Bond+™ Short Term Space Maintainer
Regular price
$86.70
$0.00
Short Term Space Maintainer
3D Bond+™ is a pure biphasic calcium sulfate that comes in all-in-one smart syringe. It is ideal for socket grafting procedures and provides 100% bone regeneration 3 months after the augmentation procedure.
Specifications

All-in-One 0.5cc Syringe
Sold in buy-gets packs of 6+2, 12+5, 24+12
Benefits
Superior Handling – The cement is injected into the augmented site from the syringe and after molding into the desire shape it sets immediately in the presence of blood and saliva.

No Membrane – The cement enables soft tissue to proliferate above its surface. As such, it prevents soft tissue invagination into the grafted site. Use Augma Shield™ wound dressing to protect your graft.

Minimally-Invasive Surgical Protocols – ension free flap and primary closure are not required. Compaction of the cement results in no hematomas and swelling post op.
Clinical Indications: Socket grafting
Predictable surgical protocols for:

Socket grafting with 4 walls

Socket grafting with a missing buccal plate