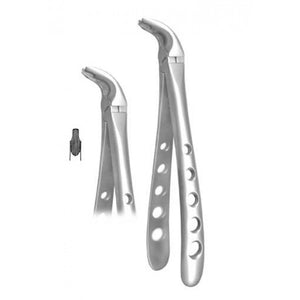 Lower Universal, Notched Beaks, Atraumatic X-TRAC forceps - 2190
Regular price
$248.99
$0.00
X-Trac Forceps Lower Universal.
Flat handle design allows for more area to work and less chance of hitting the maxillary teeth while performing an extraction.
Notches on beaks enable you to engage both the crown and the root at the same time. When both the crown and the root are engaged, there's less chance of leaving root fragments, bone is preserved, and endodontically/broken down teeth are extracted with ease.
Grip it holes in the handle provide reduced weight, improved tactile sensation, and fewer hygiene critical zones.
Ergonomically designed to easily access areas of a patient's mouth.
Made in Germany from 100% German stainless steel
---
Related products
Liquid error (layout/theme line 826): Could not find asset snippets/spurit_uev-theme-snippet.liquid